MSI Port-A-Weigh Crane Scale
The Port-A-Weigh has undergone three decades of production, experimentation, and refinement to become an industry standard for overhead weighing solutions. The Port-A-Weigh meets or exceeds all industry safety requirements, including OSHA, ANSI, and ASME, and is ideal for applications in almost any industrial environment.
Mechanical or Digital
Digital
Capacity
500 lb to 100,000 lb
Units of Measure
lbf or kgf
Resolution
3,000 to 5,000 d
standard
Memory Storage
N/A
Data Export
N/A
Operating Range
-40° F to 122° F (-40° C to 50° C)
Recalibration
Every 12 months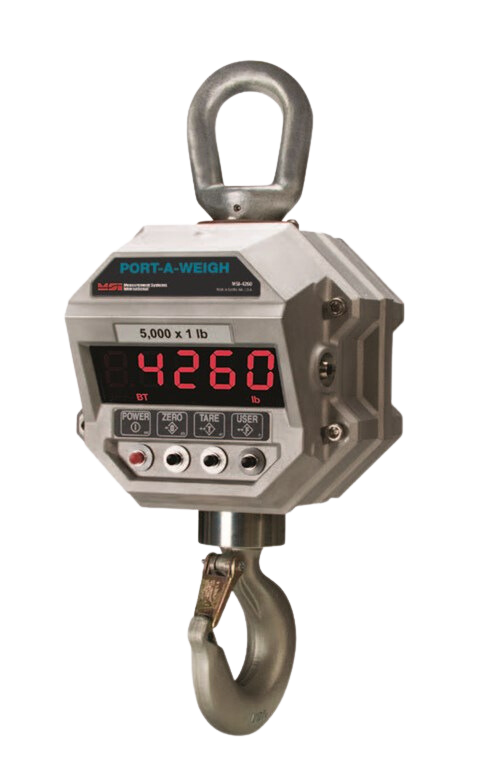 Proof Load
200%
Modes
Live & Peak display modes
Capture Rate
N/A
Accuracy
± 0.1% + 1 division of applied load
Display
5 digit, 1.2 in LED with programmable brightness control
Environmental
NEMA Type 4, IP66, marine grade 356 alloy anodized cast aluminum
Approvals
NTEP CC 89-090-500 lb – 2,000 lb
NTEP CC 89-090A1-5,000 lb -70,000 lb
NTEP CC 88-098A-5,000 LB-70,000 lb
Advantages of the Port-A-Weight Crane Scale
Let's Talk
Want to learn more about the Port-A-Weight Crane Scale? Fill out the form and we'll get back to you as soon as possible.