Dillon Quick Check-T Bluetooth Cable Tension Meter
The Dillon Quick Check-T saves operators time on the job site by measuring and displaying target tensions without the need for whiteboards, charts, or changing sheaves–and also saves time and money in the long run with its durable and rugged design. The Quick Check-T is an ideal tension measurement solution for a wide array of applications and industries.
Capacities
10,000 lb / 4500 kg
Communications
Bluetooth®
Report Generation
Utilize Bluetooth App to generate custom reports
Quick-Check Pre-Calibrated to most popular Cell Tower Guy Wires
No (but can be custom calibrated)

Rope Calibrations
Up to 20 (must be specified at time of order)
Cable Diameter Range
3/16" to 1" / 4.75 mm to 25.4 mm
Display
Bluetooth App and built-in display on device
Carry Case
IP68 rugged carry case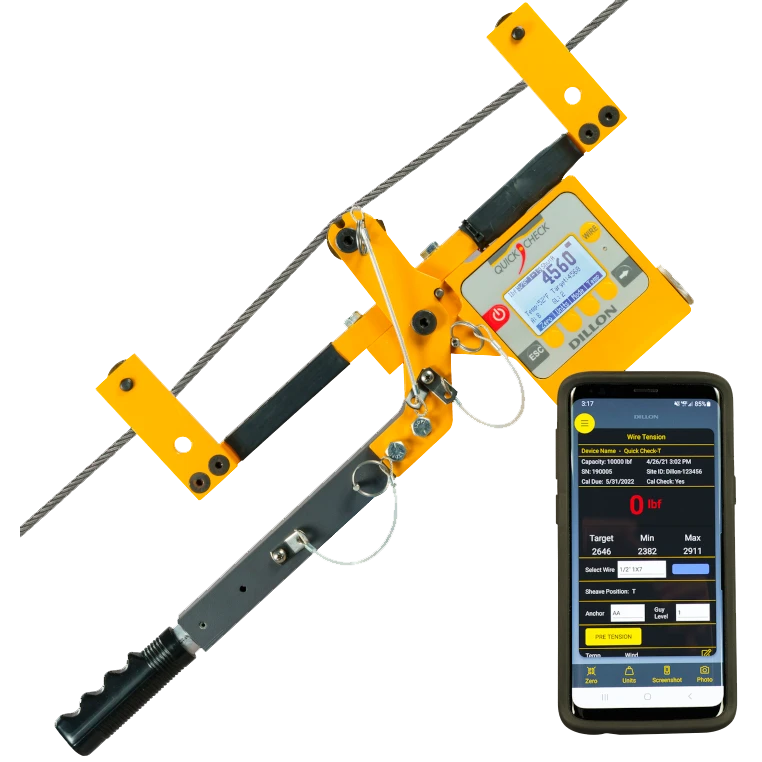 Enclosure
Suitable for continuous outdoor use
Units of Measure
Lbf, kgf and Newtons
Temperature Range
-4° F to 158° F / -20° C to 70° C
Power
Two C batteries
Battery Life
10Hz = over 250 hrs continuous 100Hz = over 100 hrs continuous
Accuracy
3% full scale
Pass/Fail Tensioning Mode
Yes
Weight
11 lb
Resources
How do you export data from this QuickCheck?
chuzles
2023-06-16T11:30:20-05:00
Data from the QuickCheck-T Bluetooth version can be exported via RS232 or can be stored in the Bluetooth app and emailed directly from the app.
Advantages of the Dillon Quick Check-T Clamp On Tension Meter
Let's Talk
Want to learn more about the Dillon Quick Check-T? Fill out the form and we'll get back to you as soon as possible.