Dillon QuickCheck 2,000 lb Cable Tension Meter
The Dillon Quick-Check tension meter is an industry-leading cable tension measuring device, featuring a simple design and unparalleled accuracy. Commonly used in applications like cell towers, bridges, elevators, fall arrest systems, utilities, and more, the Dillon Quick-Check is a proven tool to protect both your equipment and your personnel.
Capacities
2000 lb / 1000 kg
Communications
RS232
Report Generation
Excel via RS232
Quick-Check Pre-Calibrated to most popular Cell Tower Guy Wires
No (but can be custom calibrated)
Rope Calibrations
Up to 20 (must be specified at time of order)
Cable Diameter Range
3/16" to 1" / 4.75 mm to 25.4 mm
Display
Informative Display:
Shows: Unit, Wire Type, Sheave & Battery

Carry Case
IP68 rugged carry case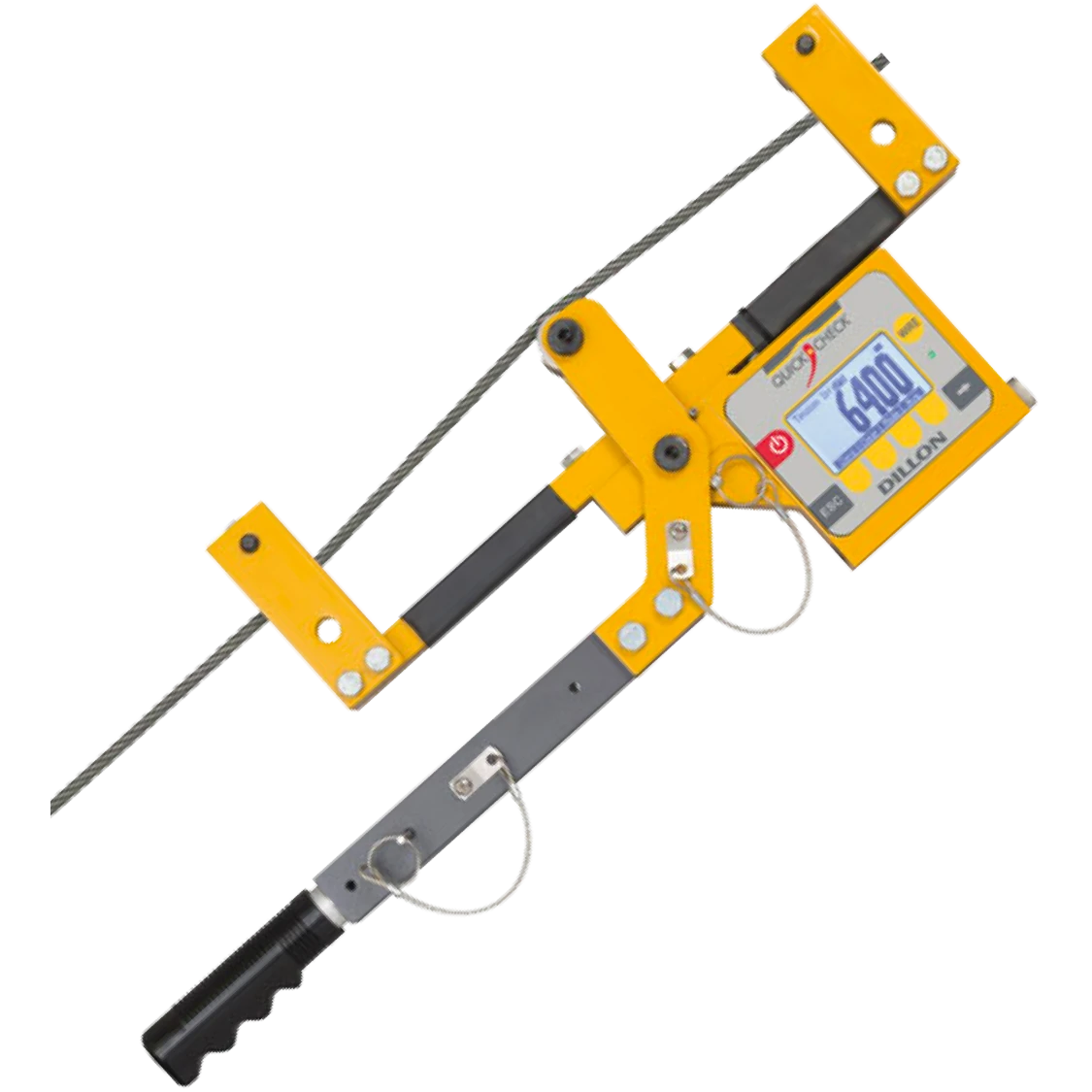 Enclosure
Suitable for continuous outdoor use
Units of Measure
Lbf, kgf and Newtons
Temperature Range
-4° F to 158° F / -20° C to 70° C
Power
Two AA batteries
Battery Life
10Hz = over 250 hrs continuous 100Hz = over 100 hrs continuous
Accuracy
3% full scale
Pass/Fail Tensioning Mode
Yes
Weight
11 lb
Resources
How do you export data from this QuickCheck?
chuzles
2023-06-16T10:46:52-05:00
Data from this QuickCheck 2,000 lb can be exported via RS232.
Advantages of the Dillon Quick-Check Clamp On Tension Meter
Let's Talk
Want to learn more about the Dillon Quick-Check Clamp On Tension Meter? Fill out the form and we'll get back to you as soon as possible.